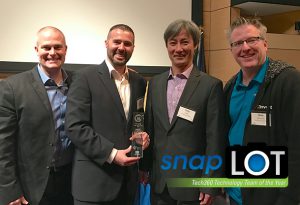 Photo from left to right:
John Hensman, Michael Cosgrove, Tony Dong and Chris McCauley.
I am honored to announce that the Nighthawks, HomeNet's mobile product delivery team, was recognized as the 2016 Tech360 Technology Team of the Year by the Chester County Economic Development Council's (CCEDC) Tech360 conference for their work on SnapLot v2! HomeNet Marketing nominated the Nighthawk team earlier this year and they were selected against other technology teams across the local community.
This award is given to a Chester County technology team that made an outstanding contribution to their business, employees or community. Tech360 was a full day technology experience, hosted by CCEDC, ITAG and i2n, featuring top companies, IT professionals, project leaders and managers in the Southeastern Pennsylvania area discussing how best to leverage the latest technology in today's business climate of doing more with less.
Additionally, our very own Corin Lucey had a Technical Breakout Session at the event on Scaling Agile and did an awesome job. Congrats Corin!
I am so proud of the SnapLot product, our Nighthawk team and everyone involved with the creation and ongoing support of SnapLot. Thank you for your continued dedication to improving efficiencies within dealers and lot service operations.